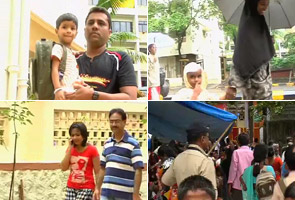 Mumbai: The Kurla suburb of Mumbai has been rocked by a series of child murders since February. After three young girls were raped and killed in a slum here, it's not just the slum residents who are on edge but also residents from other regions across the suburb.

Three-year-old Mudra leaves for school under the watchful eyes of her father.

Girish Tandel who is a Port Trust Employee has been dropping his daughter to school himself for the past one week. He no longer leaves the maid to do it.

Though his apartment complex is some distance from the Ali Dada estate slum, where 9-year-old Nusrat Sheikh's decomposed body was recovered on Sunday, yet the news of a killer on the prowl has shaken him and the other residents of his complex alike.
Read more