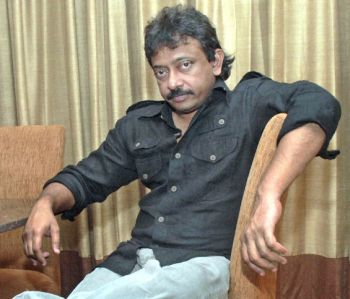 It's not for nothing that Ram Gopal Varma is called controversy's favourite child. At the launch of his film Katha-Screenplay-Darsakathvam Appalraju held at Annapurna Studios on Friday, the director did the unthinkable — he picked out top directors by name and took potshots at them!
the movie, which is about an aspiring film director played by comedian-turned-hero Sunil, marks RGV's, Tollywood comeback after 12 long years. And while one would expect him to be a wee bit more careful about whose feathers he ruffles in the industry, RGV seems least worried. In fact, he even has a song in the film which takes a dig at directors.
In a quirky speech, which sounded more like a disclaimer, RGV said, "This movie is based on my own story. Years before I became a director, I went to watch K. Raghavendra Rao's movie shooting in Vizag. I felt enraged as all he did was sit beside Sridevi and boss over people who worked with him. In this film, Sunil criticises all the directors through this song. I don't want K. Raghavendra Rao, Gunasekhar or any other director present here take offence," RGV said, adding, "I've taken a lot of digs at myself too."
The opening lyrics of the controversial number stand testimony to this — Luck tho Shiva theesi... Sholey ni chedagotti... Pichivagudu vade director Varma... Hitchcock cinemalu choosi Deyyala cinema teese director Ram gopal Varma... Idhenti ra mana Karma! (He bagged Shiva out of sheer luck and went on to ruin Sholey. He copies Hitchcock films and churns out horror flicks... Ram gopal varma is a director and that is our (bad) karma)
The song goes on to criticise K. Raghavendra Rao who uses fruits on all his heroines' naval in romantic scenes, Gunasekhar and his obsession with ostentatious film sets, director Gopal's trademark landmine blasts that blow up SUVs, Puri Jagannath's sinking career, Kodi Ramakrishna's liking for period cinema and Krishnavamsi's preachy movies. He didn't stop at that though. As he welcomed Sridevi for the launch of the film, he said that she is his favourite heroine and the only one for whose movies he stood in long queues to get tickets. As a tail piece he added in jest, "I never stood in a long queue to get tickets for Nagarjuna's movies," hinting that for the actor's movies one never needed to wait in a queue.
To this Nagarjuna retorted, "Well, I used to watch every RGV movie earlier, but these days I don't even bother."
Ram gopal varma, director-I never stood in a long queue to get tickets for Nagarjuna's movie...